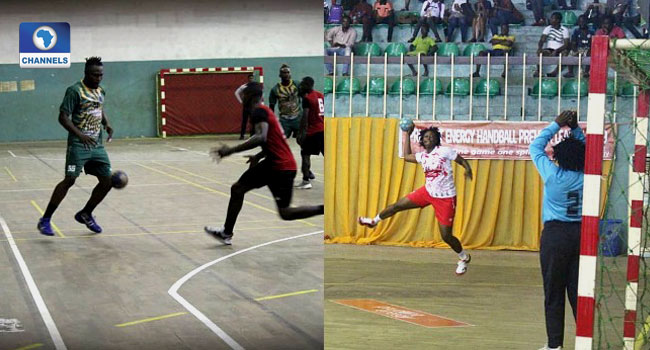 Niger United and Edo Dynamos have shown they are in contention for the league title after recording wins in their matches at the Handball Premier League second phase at Rowe Park Sports Center, Yaba, Lagos.
Niger United, the defending champion engaged COAS Shooters in a thrilling game to the delight of the fans which ended 30-24 in their favour to move up to third in the men's league log while leaders Kano Pillars defeated home side Lagos Seasiders 36-33.
Other games in the male category had Plateau Vipers defeating Sokoto Rima 30-26 while De Defenders produced a 28-24 victory over Owena Kings.
READ ALSO: Super Falcons Crash Out Of 2020 Tokyo Olympics Race
Safety Shooters completely demolished Prison Key Boys 34-16 while Kada Stars shown like a million stars to beat Bornu Spiders 29-23.
In the women's category, the leaders, Safety Babes extended their lead on the log as they defeated Desert Queens 35-23 while Seasider Babes comfortably defeated Abia Valliants 31-19.
Kada Queens struggled but managed to beat Defender Babes 22-19 while Owena Queens were no match to Imo Grasshoppers as they were humiliated with a 24-5 scoreline.
Edo Dynamos defeated defending champion Plateau Peacocks 19-18 to jump to second on the league table.
Matchday four action will go down today at the Rowe Park Sports Center in Yaba, Lagos.
Matchday 3 Results
Men
Coas Shooters 24-30 Niger United
Kano Pillars 36-33 Lagos Seasiders
Sokoto rima 26-30 Plateau Vipers
De-Defenders 28-24 Owena Kings
Women
Desert Queens 23-35 Safety Babes
Seasider Babes 31-19 Abia Valiants
Prison Key Boys 16-34 Safety Shooters
Borno Spiders 23-29 Kada Stars  23-29.
Defender Babes 19-22 Kada Queens
Owena Queens 5-24 Imo Grasshoppers
Plateau Peacocks 18-19 Edo dynamos